Our Teachers
Warm, Nurturing Educators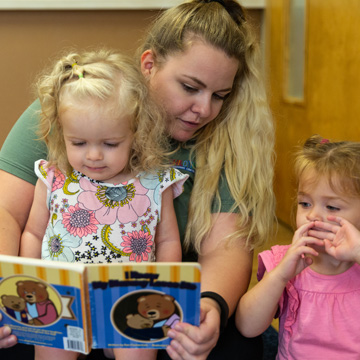 Strong educational foundations begin with strong teachers. That's why at Childtime, our teachers are highly experienced, passionate, and responsive educators.
Our individualized assessment aids us in finding and selecting the best educators and care staff. Our validated pre-hiring assessment identifies the most qualified candidates. This unique tool—to our knowledge—is unlike anything used by our competitors.
We check on every reference and do extensive background checks based on state and/or local licensing requirements. We verify education credentials, and conduct criminal background checks and fingerprinting. When candidates are going to provide transportation to children, we conduct a comprehensive driving history check, followed by annual checks afterward.
This reason our hiring process is so thorough is to ensure that we protect the most valuable part of our school: your child.
After being hired, teachers complete comprehensive training that gives them an extensive understanding of our curriculum and standards. It also provides insight on child care and approaches to child development. At this point, they're immersed in our curriculum and learn to apply the Reggio Emilia philosophy to promote classroom learning. Afterwards, teachers continue ongoing training to ensure they are current on every educational standard.
Intentional Planning, Customized Curriculum
Here, we use the Cycle of Intentional Planning. This is built to observe and assess children in a way that will yield personalized lesson plans that are specific to the children in a particular classroom.
Meet the needs and engage the interests of all the children.
Target emerging skills (or what children are now ready to learn).
Customize their lessons plans to be unique to each child.
Ensure school readiness for each child.
Plus, in each class, teachers work with a shared set of research-based developmental milestones (from birth to age 6), to ensure continual progress for the children.
The Value of Assessment
Accurate assessment matters when it comes to maintaining a quality early childhood curriculum. Here, teachers observe children while they learn, work, and play, to make assessments that truly reflect their capabilities. This allows our teachers to understand where a child falls on the educational path. In turn, they can create lessons that target each child's exact needs.
Teachers are empowered to best understand the children in the classroom through this method, which also gives them an opportunity to get to know them in other ways too. As they pay such close attention, they understand their personalities and interests better.
Through regular observation, coupled with accurate assessments, teachers provide developmentally fitting lesson plans. By extension, children are constantly growing and progressing in their development.